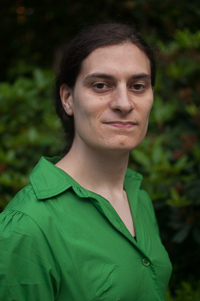 Ada Lerner
Assistant Professor of Computer Science
Khoury College of Computer Sciences
Northeastern University
Boston, MA 02115
Curriculum Vitae (CV): That's a royal word for "Resumé".
About
I am recruiting PhD students and postdocs! If you're interested in any kind of usable security research, please don't hesitate to reach out. Send me an email: ada@ccs.neu.edu
My research is broadly within the area of usable security and privacy with a particular focus in several areas, including privacy law, communities' privacy perceptions and norms, and the computer security and privacy needs of those who are marginalized or vulnerable. My methods include qualitative, quantitative, measurement, and design approaches, and my work is frequently interdisciplinary across domains such as feminist and queer theories, international relations, and the law.
From 2017-2022, I was an Assistant Professor of Computer Science at Wellesley College. I earned my Ph.D. from the University of Washington and my B.A. from Amherst College. At UW CSE, I had the pleasure to be advised by Franzi Roesner and Yoshi Kohno in the Security and Privacy Research Lab.
Publications
Privacy Norms of Transformative Fandom: A Case Study of an Activity-Defined Community
Abigail Marsh and Ada Lerner.
To appear, CSCW 2024, San José, Costa Rica, November 2024
How Well Do My Results Generalize Now? The External Validity of Online Privacy and Security Surveys
Jenny Tang, Eleanor Birrell, Ada Lerner.
Symposium on Usable Privacy and Security (SOUPS), Boston, Massachusetts, August 2022
Defining Privacy: How Users Interpret Technical Terms in Privacy Policies.
Jenny Tang, Hannah Shoemaker, Ada Lerner, Eleanor Birrell.
Proceedings on Privacy Enhancing Technologies Symposium, The Internet, July 2021
Privacy and Activism in the Transgender Community.
Ada Lerner, Helen Yuxun He, Anna Kawakami, Silvia Catherine Zeamer, and Roberto Hoyle.
ACM CHI Conference on Human Factors in Computing System (CHI 2020), Honolulu, Hawai'i, April 2020
Computer Security and Privacy for Refugees in the United States.
Lucy Simko, Ada Lerner, Samia Ibtasam, Franziska Roesner, and Tadayoshi Kohno.
IEEE Symposium on Security and Privacy (Oakland 2018), San Francisco, May 2018.
Toward Understanding the Privacy Needs of Marginalized Populations.
Ada Lerner, Roberto Hoyle.
"Moving Beyond a 'One-Size Fits All' Approach: Exploring Individual Differences in Privacy" Workshop at CHI 2018, Montreal, Canada, April 2018.
Rewriting History: Changing the Archived Web from the Present.
Ada Lerner, Tadayoshi Kohno, and Franziska Roesner.
In Proceedings of ACM Conference on Computer and Communications Security (CCS '17), Dallas, TX, November 2017.
Confidante: Usable Encrypted Email - A Case Study With Lawyers and Journalists.
Ada Lerner, Eric Zeng, and Franziska Roesner.
2nd IEEE European Symposium on Security and Privacy (EuroS&P), April 2017.
Internet Jones and the Raiders of the Lost Trackers: An Archaeological Study of Web Tracking from 1996 to 2016.
Ada Lerner, Anna Kornfeld Simpson, Tadayoshi Kohno, and Franziska Roesner.
25th USENIX Security Symposium, August 2016.
Analyzing the Use of Quick Response Codes in the Wild.
Ada Lerner, Alisha Saxena, Kirk Ouimet, Ben Turley, Anthony Vance, Tadayoshi Kohno, Franziska Roesner.
13th International Conference on Mobile Systems, Applications, and Services (MobiSys), May 2015.
Cryptographic Currencies from a Tech-Policy Perspective: Policy Issues and Technical Directions.
Emily McReynolds, Ada Lerner, Will Scott, Franziska Roesner, and Tadayoshi Kohno.
2nd Workshop on Bitcoin Research, January 2015.
Control-Alt-Hack: The Design and Evaluation of a Card Game for Computer Security Awareness and Education.
Tamara Denning, Ada Lerner, Adam Shostack, and Tadayoshi Kohno.
ACM Conference on Computer and Communications Security (CCS '13), 2013.